ABOUT
Gem Blenders is a Brooklyn-based expandable card game that was successfully funded on Kickstarter in November 2019. Prior to the Kickstarter campaign, Steve began Gem Blenders as a passion project, in which he illustrated the characters and prototyped game mechanics. With the help of his friends, it has rapidly grown into a tight-knit community. Our goal is to continue to grow our playerbase and further develop the game through the addition of new sets and expanded lore.
Gem Blenders is largely inspired by major titles in the trading card game genre such as Magic: The Gathering, the Pokémon Trading Card Game, and the Yu-Gi-Oh! Trading Card Game. While Gem Blenders draws inspiration from many sources, it offers a unique and fresh experience within the genre. Notable game mechanics include blending, an emphasis on multicolored decks, a reduced emphasis on card destruction, and the four-hero position system.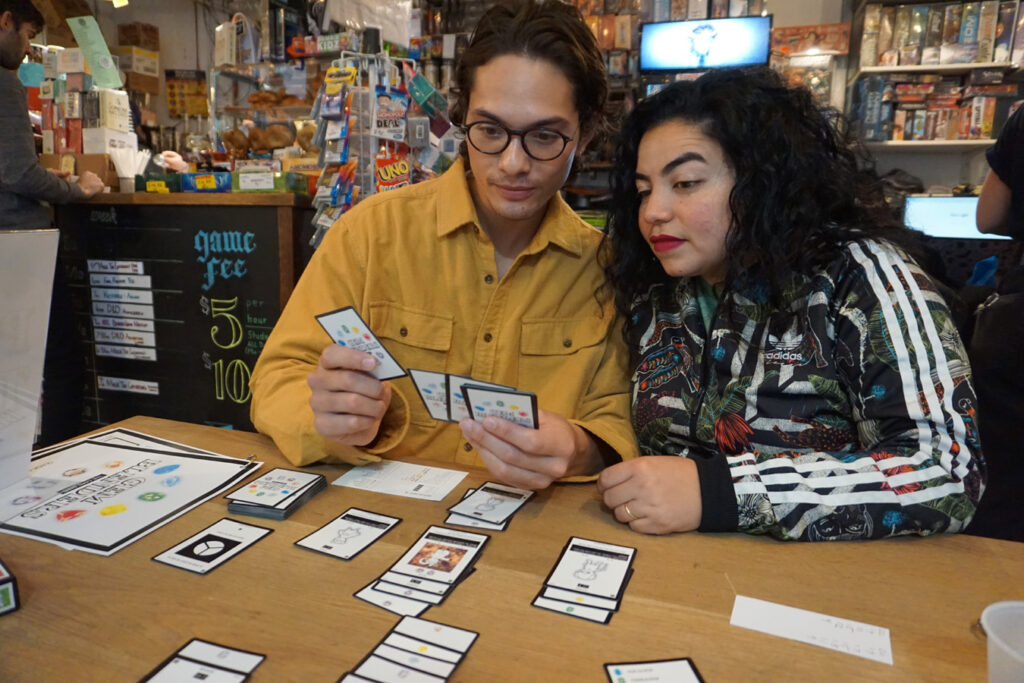 At its core, Gem Blenders is an indie TCG, which is an element we do not shy away from. With inspiration from the early internet and retro video games, Gem Blender's simple (and lovable) characters and low-fi accents shape the distinctive world of Gemlandia. As you explore card effects, lore, and descriptions, you'll get to know all of the heroes and blends and their distinct personalities.
Prior to our Kickstarter campaign, Gem Blenders was rigorously playtested at the NYU Game Center, NYC Game Makers meetup group, Play NYC, Gen Con 2019, Emagination Computer Camps, and online using Cockatrice. We continue to playtest future cards online using our community Discord, and we are always in search of new and experienced card game players alike. Unlike bigger card games, we encourage and rely on community input in the creation and balancing of new cards. If you are interested in learning about our playtesting process, please do not hesitate to get involved!
---
OUR TEAM
STEVE SEKULA
Steve has been making trading card games since he was a kid. He's a fan of all things Pokémon, and grew up playing Yu-Gi-Oh! and Magic: The Gathering as well. He's working to build his own creative studio dedicated to crafting high quality titles with unique concepts and art styles that break away from traditional board game and fantasy tropes. Outside of his nerdy ambitions, he loves fine art.
SAM LEBRYK
Sam met Steve as freshman year roommates in college, and he's been beating Steve at games ever since. Gem Blenders is no exception. Their mutual love for card games and Smash Bros. brought them together, and Gem Blenders continues to enrich their friendship. His love for healthy competition expands into sports as well as he continues his high school and college basketball career at his local YMCA.
DAVID WURTELE
David is fascinated by the rich worlds that exist to simultaneously accommodate and inform trading card designs, and he aims to create lore that provides a similar sense of wonder for Gem Blenders players. Outside Gemlandia, he's also drafting up automated tools to make deck building easier for players new to the genre. He loves to spend his spare time engrossed in classic murder mystery novels.