You walk into the convention hall right at opening and you feel the air-conditioning breeze hit your face. It's going to be a great day trying out new games and making memories with the homies. Which booth will you hit first? What's the method of attack for the floorplan? There are so many booths and vibrant colors everywhere – you can only hope to explore it all.
Just kidding – it's a completely different environment being on the other side. Being part of a booth to promote a game is vastly different from being a con-goer. It involves a lot of planning, pitching the game, explaining the mechanics, and keeping people interested all day long.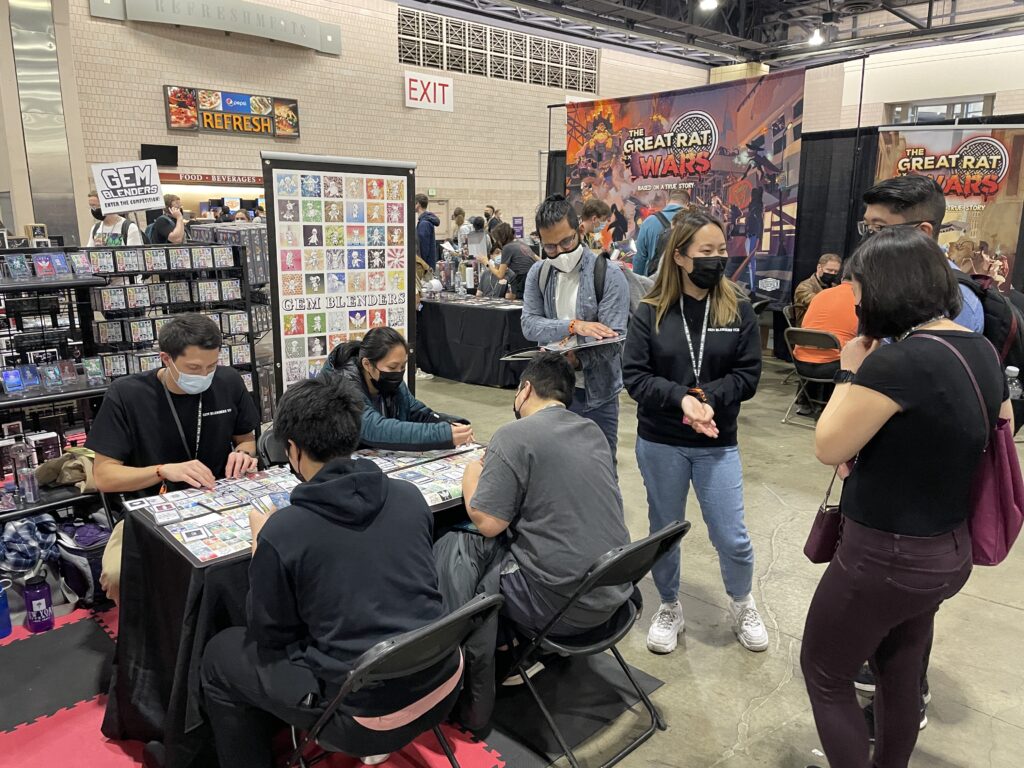 Usually the trip starts with excitement amongst the Gem Blenders team as we pretend to be features on Hoarders with our suitcases of Gem Blenders gear. We lug around our stuff on convention day and set up the booth while Sam usually plays the intern and kindly grabs coffee for everyone. It's going to be a long day after all.
I usually play the part of overthinker – the person who thinks about how we'll meet people, what we'll say to them, how we'll keep their attention, and how we can build and foster our amazing Gem Blenders community. We usually share the key goals and plan for the day and have a small rally together in our black Gem Blenders hoodies before the start of the con. Just a little early morning spirit.
When the day finally starts, people usually start to rummage in, excitedly pacing the floors as they try their best to get a lay of the land for what's at the convention. They also try with all their might to avoid any and all eye contact possible. It's a bit awkward during that initial hour but the convention falls into a rhythm after that.
During the day, I get to talk through the story behind Gem Blenders, Steve's vision and art for the game, our Kickstarter, how to demo the game, and our future plans. I love having the opportunity to divulge into the experience of Gem Blenders and get into the details of how heroes transform into blends. I always try to share the game with as much enthusiasm and excitement for every single person that comes by the booth as I had when I was first introduced to the game.  
You get to share some special moments with people throughout the day. Sometimes, you watch as peoples' faces light up when they start to piece together the logic behind Gem Blenders and the endless combinations they can play. Sometimes, part of the game resonates with someone's childhood experience. Sometimes, friends or couples make core memories as they battle each other to the death. There's a lot of laughter, banter, and dueling that goes on all day.
After a whirlwind of chatting and meeting new faces, the loud bells will chime and the convention will finally come to a close. At this point, I usually can barely whisper a word and begrudgingly hold up my heavy body – even when I look over at my fellow teammates, it's usually a squinty Steve from how tired he is, a wired Sam from all his energy drinks, and an eager Ben who has played a million rounds of Gem Blenders. Even through the long days and the large effort it takes to bring Gem Blenders to a convention, I feel lucky to be able to share moments of my life to promote a dream with my friends. I feel even more grateful to be able to introduce Gem Blenders to others who (hopefully) cultivate new friendships and memories in the same way. It's always worth the effort.
I hope new Gem Blenders friends we've met on the road read this – and if you do, be sure to join the Discord! Let's foster this awesome community together!